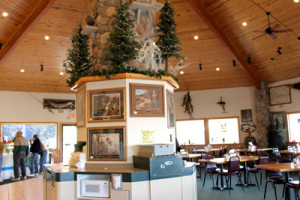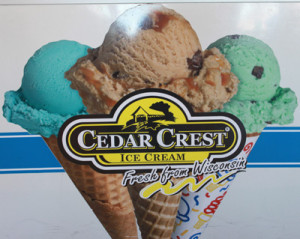 While you are visiting Danbury, our Eatery is a must stop destination! You can enjoy a great meal while relaxing in our north woods atmosphere.
We start the day out by serving a full sit down breakfast: Monday thru Thursday from 6 to 11 a.m. and Friday thru Sunday from 6 a.m. to Noon. We recommend trying one of our daily breakfast specials for added value.
Cedar Crest Ice Cream
Our regular menu starts at 11 a.m. and offers a wide variety of meal choices including, fresh made to order Piccadilly pizzas or subs, hand battered Chester Fried Chicken, and a full line of burgers and sandwiches from our grill.
We are well known for our large selection of 32 flavors of Cedar Crest Ice Cream. Cedar Crest Ice Cream has been made in Wisconsin since 1976, and proudly served in our store for over 30 years. Stop in today for a cone, malt, or sundae made with one of our 32 flavors. You can also take your favorite flavor home in a pint or quart. You will not be disappointed!
Stop in & save with a Coupon.

CLICK HERE!